We had some serious wizarding fun at Cartoon Club online art classes for kids this week! Whenever I ask the children what they'd like to draw inevitably someone says something involving wizards or magic. That's an easy one for me as I'm a BIG Harry Potter fan. So here goes my interpretation of doodling wizards for our online art class with the kids …
This week's art class was called "What Wizarding luck – a Wand!". We imagined what we'd create if we had a magic wand for a day. Just think! How about a sweet tree, a talking cat, a chocolate cauldron, a gem machine, a laser ring, or a homework fairy?! Great ideas!
In this YouTube video tutorial  I show you how to draw yourself as a wizard casting a spell just like we did in my online art class for the kids. I thought I'd share how I did one character, so if you missed our online cartoon class, you can have a go now.
There's always a new topic to doodle on at Cartoon Club – something that will not only improve our drawing abilities, challenge us to come up with new and creative ways of solving problems. It was challenging to draw some to the spells we imagined but drawing me as a wizard was fun and it's pretty easy to adapt this cartoon character design to be your own so have a go and let me know what you think in the comments.
Here's what you will need:
Pencil (I use my friend the

4B Faber-Castell Jumbo

here)

Paper

Black marker or fine-liner (I'm using a Uni Super Ink fine marker here)

Eraser or rubber (it just for erasing AFTER you have inked)

4 Colours (My favourite are

Faber-Castell polychromes

or Prismacolor but whatever you have will do just fine)
How do I draw a cartoon of me as a Wizard?
Good question! Head on over to my YouTube channel and you can watch the tutorial where I step you through How to Draw Yourself as a Cartoon Wizard from the online art classes with the kids. But before you begin….get your creative thinking cap on…
How can I think more Creatively?
Let's focus on VARIATION
Before you start the video, I recommend you keep in mind the following: there are all kinds of creative ways to use the concept of variation in your drawing. 
What do I mean by variation? Well in this example, of a cartoon wizard I begin with simple shapes to define my basic character. What I'm really doing is making a template of sorts, what I can turn into many different kinds of characters, or in this case wizards.
As I'm drawing my "template" lightly, I think about the various ways I can change this character, using just small variations. This is how I am able to give you an outline that you can take and make into yourself.
This video shows you how I draw this one wizard, me!, cartoon. What I want you to experience is the process I go through and how I can change this character up using different variations, even in this simple example. How about varying: your hair, your mouth, the positions of your eyebrows, add some glasses, change the hair style… Fire burn and cauldron bubble, turn this wizard into…. you… another person… anything. Hey look we're doing magic!!
You will wind up with a different character than me and make different decisions along the way. That's great. It will be your unique cartoon character. That's the entire point – to draw like YOU. Ready… Let's get creative!
Step 1 – Draw Lightly! Let it Flow
I begin with my biggest shape that is going to create the main feature of my cartoon. This one is a simple oval. But I don't just draw one circle and leave it at that; I draw lots. This light drawing time is key creative time – I get something down on the paper, warm up my right brain, and start to get a feel for how my character is going to orient on the page. This is my most important thinking time.
Step 2 – Experiment for Expression
Next I lightly sketch in the other features. I ask myself lots of questions and experiment with light sketchy lines. I try out various placement, size and orientation of the rest of the shapes that will form my character. This is my chance to play around and see how I can make this cartoon expressive.
Step 3 – Ink with your Instincts
Now I grab my pen. But of course you can outline darker in pencil. I start with the eyes. This is going to give my character her expression so this is where I begin. I have lots of sketchy lines on my page, but I use my instincts to commit to which will look best for my cartoon. Here I trust my taste.
With my pen, I continue to outline the rest of my character. The head, the body, the limbs and such. I exaggerate the lines that give the feeling I am looking to express.
Step 4 – Colour your Cartoon to Life
I usually colour a cartoon with just three or four pencil crayons. This is just enough variety of colour to give my character interest while still maintaining harmony. In some areas I blend and layer the colour while in others I apply it on it's own. I like to use a combination of "realistic" colours and more unusual colours. This juxtaposition gives life to my cartoon – and well it's fun! This is also why I use pencil crayons to colour – because I can add variety. I can make my pencial softer, I can use harder lines, I can make a gradient, I can blend, I can outline, I can colour a solid area. I add emphasis and contrast of colour at the end, according to my taste to liven up my cartoon. Voila!
Please share your cartoons
Please share your cartoons when you are done. I LOVE seeing everyone's art work and drawings. It's so inspiring! If you are on Instagram please tag @sjvickery and hashtag #cartoonclub or find me on Facebook @sarahjanevickeryart
Grab a FREE PDF or watch another art class tutorial
I also have lots of Free Worksheets and Colouring Pages for anyone who wants to get creative. To see all my videos and tutorials head on over to my YouTube channel.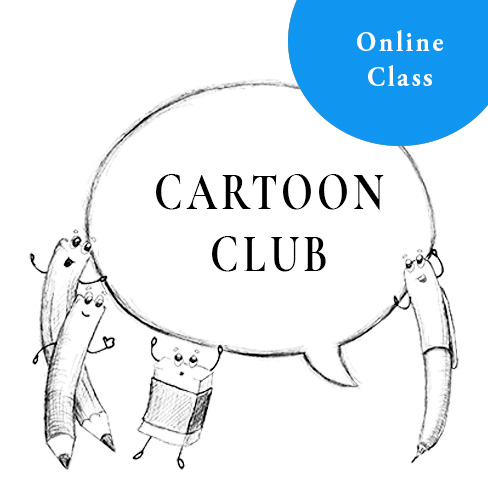 Online art classes for Kids who love to doodle
Is your child always doodling? Do they love to create cartoons? This is for them! At Cartoon Club we are a small, friendly group that works together in our online platform offering art classes for kids who love to doodle and think creatively.
Cartoon Club was set up by me, artist and Creativity Coach Sarah Jane Vickery, with the aim of building art classes for kids to share their love of cartoons – and ultimately, have fun while building creative confidence.
We're open to children who like to sit, doodle and dream up cartoons. There are 1 hour Cartoon Club online art classes for kids ages 8 – 12 as well as 30 minute Cartoon Junior classes for children ages 6 – 7.