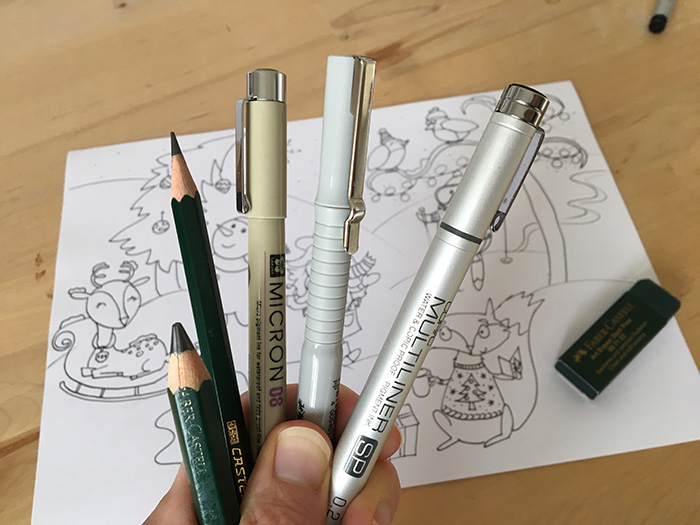 -Who doesn't like getting new art supplies?!
I love browsing in the art shop. I get a lot of questions about what I recommend in the way of supplies for Cartoon Club. So here goes a little list of my favourite supplies. There are in fact more than eight listed but there are supplies in my eight key categories, so take your pick. This is great list of supplies that will get anyone started in cartooning.
I've included links to these art supplies, just so you can see an image of the products. It's not necessarily where I shop. I buy my supplies from a few places including my local shop The Godalming Art Shop, online and from Pullingers Art Shop. I have a discount code you can use for Pullingers online and physical shop. Just sign up for my newsletter and you'll receive the discount code.
This is not an exhaustive list, and on the other hand you don't need all of this for Cartoon Club art classes. If you have other pens, pencils or favourite supplies, please do post in the comment section below. I'd love to hear your thoughts and experience with my favourite.
Paper
In class I draw on sheets of A4 120gsm higher quality office paper. I like something that is a bit smoother than standard 80 or 90 gsm printer paper because it takes my pen in a smoother way and pencil lines erase more easily. This is what I use when I colour my work in pencil crayon.
Pads
When I am drawing cartoons for my game or other illustration work I use either Daler Rowney A4 70 gsm Graphic series Marker Paper, or Copic marker pad, or Winsor & Newton 70 gsm Bleedproof. These are the pads I use when I am colouring my working in markers.
Sketchbooks
If you buy a sketch book instead, do buy something with a smooth paper. For a small carry-in-my-bag journal or sketchpad I love Pentalic Illustrators Sketchbook. The size is perfect and the paper is just the right tooth for pen work. For a more casual doodling, rough-work book I will use a Moleskine Classic Plain Notebook in size 13 x 21cm.
Pencils
Well you've all seen my stubby pencil collection. Ha ha! I do go through tons of pencils. I do like having a variety of hardnesses and lengths. The short pencils are actually the most comfortable – I can naturally hold them in a pinch grip which is best for loose style drawing lines. Y'all know how much I like my light sketchy lines when I start drawing a character in Cartoon Club!
Staedtler Mars Lumograph drawing pencil in 2B, 3B or 4B
Faber-Castell 9000 graphite pencil 2B, 3B or 4B
Faber-Castell 9000 Jumbo graphite pencil 2B, 3B or 4B (I LOVE these! They are the best for pinch grip)
I don't tend to buy pencil sets because I use specific hardnesses like 2B, 3B and 4B more often than any other. The 3B and 4B I find erase the best and are the optimal balance of soft enough to be sketchy, dark enough to see but light enough to erase well. A 2B is also fine but it is your personal preference. Anything up in the 6B or 8B range is really meant for sketching work and it is very soft and smudges. Not ideal for cartooning. On the opposite end of the scale, I do not recommend hard pencils like 2H, H or HB. These don't give enough of a sketchy soft feel and I feel stifled in my drawing expression.
I do not like mechanical pencils. I find them too hard, too fine and no good for pinch grip. They are great for detailed work but that's not what I need in Cartoon Club drawing class.
Pens
Oh boy! Do I ever like pens and a lot of them but here I'll tell you my current favourites. All of the below have great ink quality and have tips that run smoothly over the paper.
Faber-Castell Ecco Pigment Fineliner in size 0.3 or 0.5mm
Faber-Castell Pitt Artist pen Fineliner in size 0.3 or 0.5mm
Sakura: Pigma Micron pen in size 0.3 or 0.5mm
Staedtler : Pigment Liner Pen in 0.5mm – not my first choice as the nibs can be a bit square for my liking but a good spare pen
Tombow ABT Dual Brush pen in black and grey – I used these for underlining and shading in areas in my inked cartoons. Not a necessity by any means but a fun pen to play with to add that little extra dimension to your cartoon drawings.
Last but not least…
Copic Multiliner SP – the ultimate! I use these for finer work only. This is what I drew my colouring book Veronica's Garden with. You can replace both the nibs and the ink. They are expensive but lovely. I have these in sizes 0.05mm, 0.1mm, 0.2mm, 0.3mm. So if fine line is your style, this is the pen for you.
Erasers
This is a texture thing! Erasers need to be 'squiggy' enough that they lift the pencil off but don't rub the paper. I like these rubbers:
Faber-Castell Dust free Eraser
Pencil Sharpeners
For my desktop I use the M + R Mobius + Ruppert hand crank from Germany. It's great! You can adjust the type of sharpness you like (I like daggers!), it's easy to clean and it doesn't break the leads.
For my pencil case I carry Jakar Trio 3 way pencil sharpener. It even has a jumbo slot for my big Faber-castell pencils. Love it!
Colouring
While we don't do much colouring during Cartoon Club classes, as we're non-stop drawing, I do colour at other times. Here is what I use:
Faber-Castell Polychromos colouring pencils – ultra expensive and only really necessary if you are into colouring books
PrismaColor Premiere colouring pencils – These are the pencils I use to colour my cartoons from class. They have terrific pigment quality, although they are much more prone to break the leads versus the Polychromos. Hey ho those are the trades!
Winsor & Newton brush markers – This is what I colour on my bleed proof or marker papers when I am either drawing cartoons for a project or when I am designing some of my greeting cards. These are FANTASTIC!! They are alcohol based markers and so you must use marker paper. They layer amazingly. You don't need too large of a set because you can layer them to create all kinds of colours. Many people mistake my marker work for my watercolour work – often I can't tell the difference.
That's it folks! I hope that was a help and I hope that some of you will get some lovely birthday or Christmas gifts as a result. I might just need to add a few fun supplies to my own shopping list.
Let's Get Creative!