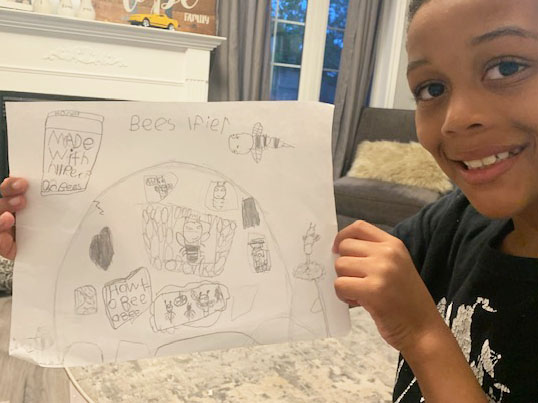 Why is cartooning bees be so creatively inspiring?
This past week I had the pleasure giving a workshop to some children through a department of the Government of Ontario. Our topic this time was The Happenin' Hive. I've told this workshop before and it's always been quite popular. It got me thinking why was that?
There's something which most people really like about bees. They are great to cartoon because they are easy enough to draw and yet interesting enough to alter into other characters. But what I think is the most attractive quality about bees is that they work together. They form their own little community and they can have so much going on.
Let's focus on one creative thought – ACTIVITY…
A beehive is a perfect topic. You can imagine just about any activity happening in hive. You may start by thinking about obvious a queen, larva, worker bees, maybe guards or some royal jelly. But bees can get up to all kinds of other ACTIVITIES for example … how about having a nursary, or a school, that means you might need a teacher bee or a doctor bee. What does the queen sit on? How about a thrown of honey and she might have a staff topped with a honey pot.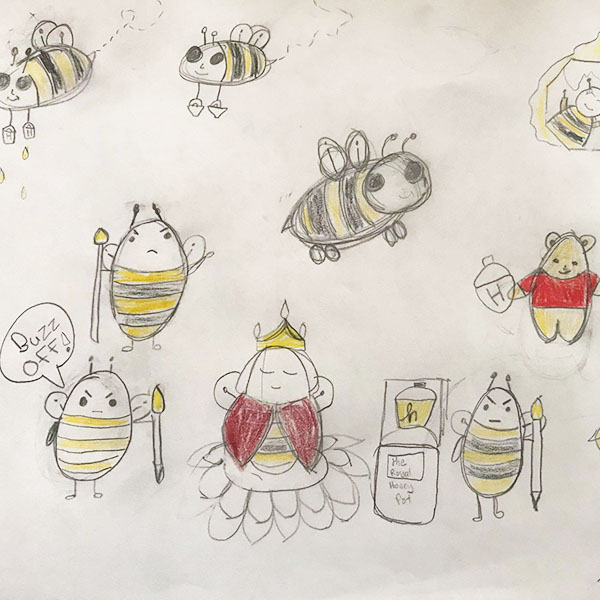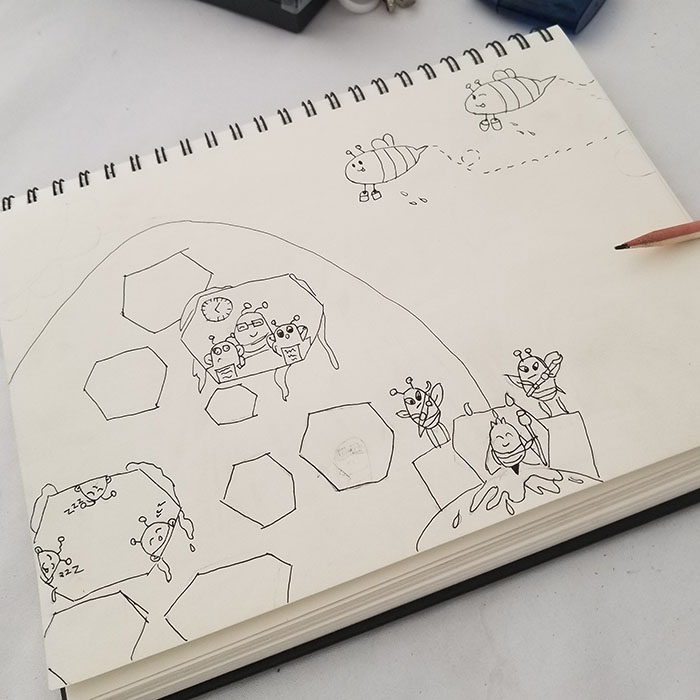 How does working together improve our drawings?
Bees get up to so much ACTIVITY that it makes them ever so fun to anthropomorphise. When I teach this workshop we always start out by brainstorming ideas together. What starts out as a slow drip becomes a flood of ideas for ACTIVITIES in our Happenin' Hive.
The other layer to this concept is that bees work together. There's lots of ACTIVITY and they each play a role to create the best hive possible. It feels like that too when we work together in our online art class. We feed off of each others ideas and drawings and the more ACTIVITY there is on each of our parts, the better each of our Happenin' Hives becomes.
I hope you enjoy seeing the wonderful ACTIVITY from our Happenin' Hives. Have a go for yourself. Doodle a few bees and see just what happens for you.
Ready?… Let's Get Creative!
Sarah
Online Art Classes
for Kids and Adults who love to Doodle!
Are you always doodling? Do you love to create cartoons? These are the art classes for you! I've created a small, friendly group that works together in our online art class. We're open to anyone who likes to sit, doodle and dream up cartoons. There are drawing classes for kids (ages 8 - 12), young children (ages 6 - 7) and even adults.