Have you ever wanted to draw your own comic strip but didn't know where to begin? Here's how to doodle your very own cartoon story.
I'm always on the lookout for little snippets that will inspire the art lesson in my online cartoon classes with the kids and adults. I came across this quote as I was cleaning out some old art file folders. I'm a serious note taker in case you haven't guessed – I keep a ton of brainstorming ideas in my artistic ramblings. Sometimes I even amaze myself at the amount of paperwork and journals I produce. But I digress …here's the interesting quote I found:
"Art gives you a vision of something that is possible, something that can happen, but hasn't yet."
This was from Seth Godin's book Tribes. It's a book on leadership but I found it had some very useful concepts that are highly applicable to building a creative mindset. Could we combine this concept and narrow our parameters so that we can draw our own comic strip?
Let's focus on one creative thought – the DAY…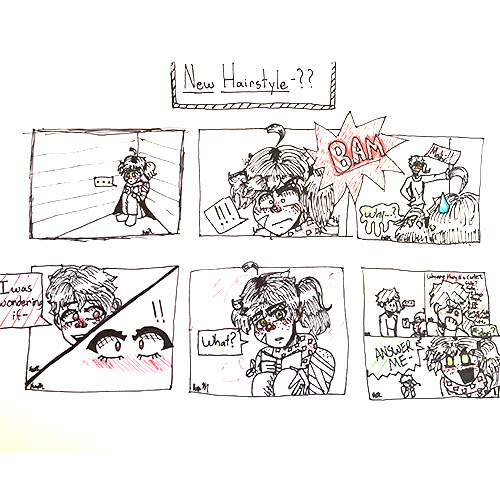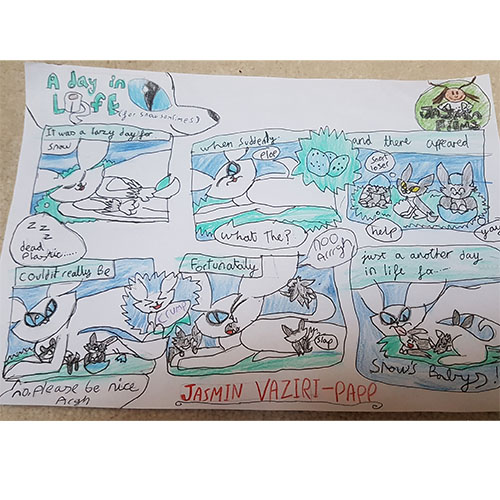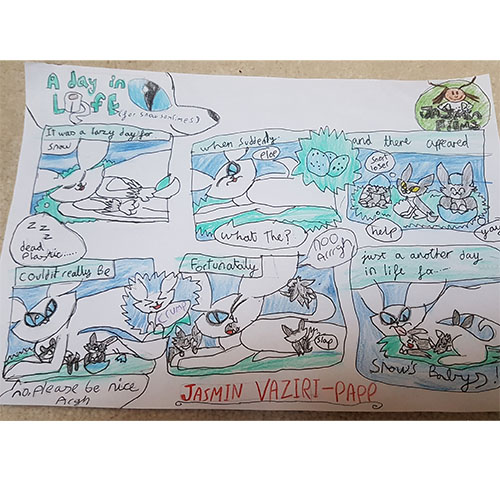 How do you begin to design and draw a comic strip?
Could you cartoon a story, if you began by just focusing on the DAY and asked the question, 'what is something that is possible, that can happen, but hasn't …yet?'. Alrighty, now we've got a creative challenge. I like it!
In my online art classes with the children and adults, I gave them the task to design a comic strip called "A DAY in the Life". First I had them doodle some super simple cartoons in order to come up with their main character. Then I showed them the outline for a simple comic strip, including some starter phrases to help them imagine a story where something surprising happens in a DAY.
The advantage of focusing on the DAY is that it plants a seed for you to imagine a DAY in the life of your character. The 'surprise' happens when your secondary character comes along. With this concept of a DAY and a surprise it's amazing how fun and easy it is to draw your own funny comic strip.
You see art gives you a process, a format if you will. It is a methodology to inspire you to think outside of the box. It facilitates creativity in multiple areas. This is what I love about cartooning as a tool for creative thinking.
In our age of knowledge, the rate of change is so fast that you cannot learn fixed skills. Art however, continues to teach me methods of thinking; just as I did in order to teach this lesson on how to draw your own comic strip.
There are no fixed rules or facts in art. It is often a criticism as it is impossible to judge in a black or white way, however this is actually the greatest advantage to learning an art form like how to cartoon. The challenge and the solution are not static in any way. It cannot be taught rigidly but instead I find it is through demonstration that we all improve our ability in how to think creatively and solve problems.
I believe the the skills I derive from continuing to learn to draw, are more applicable today than at any other point in time. Surprising? I think not!
Ready?… Let's Get Creative!
Sarah
Online Art Classes
for Kids and Adults who love to Doodle!
Are you always doodling? Do you love to create cartoons? These are the art classes for you! I've created a small, friendly group that works together in our online art class. We're open to anyone who likes to sit, doodle and dream up cartoons. There are drawing classes for kids (ages 8 - 12), young children (ages 6 - 7) and even adults.