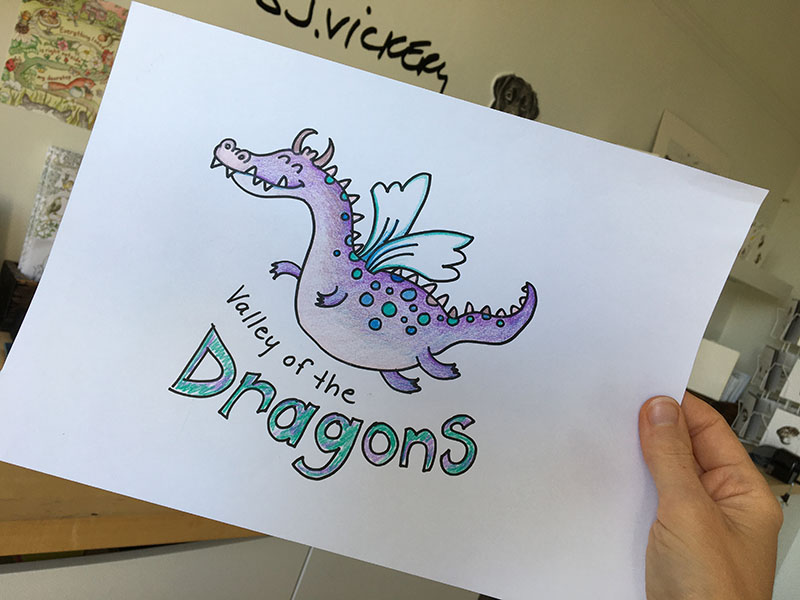 How can cartooning help a shy child feel more confident?
It probably doesn't surprise you that one of my most popular online art classes with the kids is DRAGONS! Who doesn't find these mythical beasts to be a fun subject. They are perfect for sparking the imagination and inspire some of the most creative drawings in my online art classes with small and big kids alike!
Recently I had the opportunity to give a workshop to the children of the staff in a department of the Government of Ontario. I love that I can connect with some of my Canadian friends through my online art classes – one more way in which technology is a good thing – connecting me to keen doodlers. Who would have thought?!
This group of children were all new to Cartoon Club, for most it was their first time interacting in this type of online art class, and they were all new to my very creative style of teaching. The majority of children were shy and did not want to turn on their camera, sound or share their work… at first…
For this Cartoon Club workshop with the children our topic was "Valley of the Dragons". How can doodling a dragon make you feel more confident? Yes indeed! And here's what I do to help shy children feel more confident…
Let's focus on the thought – I DID THAT…
How does doodling help a child's confidence? The feeling that I DID THAT
Dragons can be a daunting subject. They sound very cool and fun to draw but when you actually sit down with your pencil in front of a blank sheet of paper it's easy to feel hesitant and think "I don't know that I can do this…".
I start each Cartoon Club online class with an idea share. This can work even with shy children who don't want to turn on their audio, because we can all type into the chat box. I start us all out with a few ideas and soon enough most children are joining in with their imaginative ideas. We start to get inspired and that's the first step.
I start by setting the scene for our picture. A first simple step. Can you do that? Yes! Well then there's the feeling of hey I DID THAT.
Next we start drawing our first dragon. I break it down into digestible parts. Children start to see that they can draw their first cartoon dragon. It's amazing how proud they are when they see again I DID THAT.
As our pictures progress children become more excited about their pictures. They start wanting to share with me what they have drawn. They are keen to show me when they get the feeling I DID THAT. This applies just as much to in my adult cartoon online class Discover Your Inner Cartoonist. I myself love that little feeling of I DID THAT after I have drawn a new cartoon and broached a new subject.
When children improve their drawing skills, especially when presented with a challenging topic, it builds confidence and the desire to share. One parent from this workshop said that her daughter "was initially very hesitant about showing her work, but once the class started, she relaxed. You were very encouraging and that allayed her fears and insecurities. Thank you! Please feel free to share her drawings. I think she'd be very proud to see them displayed." Thank you for the opportunity to teach these wonderfully creative children. Hey, I DID THAT!
How can I get started in cartoon online classes?
If you have a child who loves to doodle I invite you to try one of my online art classes: Cartoon Club for Kids (1 hour for ages 8-12) or Cartoon Club Junior (30 minutes for ages 6-7) and it you like to draw there's even Discover Your Inner Cartoonist (you got it – 1 hour for adults!).
Ready?…Let's Get Creative!
Sarah
Online Art Classes
for Kids and Adults who love to Doodle!
Are you always doodling? Do you love to create cartoons? These are the art classes for you! I've created a small, friendly group that works together in our online art class. We're open to anyone who likes to sit, doodle and dream up cartoons. There are drawing classes for kids (ages 8 - 12), young children (ages 6 - 7) and even adults.