So you say you can't draw anything better than a Stick Figure? Is that true?…
This blog post is for all you adults out there who say they can't draw. How often do I hear "I can only draw a stick figure". I've got a better question for you; have you ever met a child who says "I can only draw a stick figure"? I haven't. Why is that?
While it may be true that children go through stages where they do indeed draw what we would consider a stick figure, they don't have a problem with this. Neither do we when we look at their drawings. And from what I've experienced in my online art classes with the kids, children seem to naturally draw much more elaborate cartoon characters and quite early on. How?
I can tell you one thing that children seem very good at learning themselves that elevates their drawings to more than just stick figures.
Let's focus on one creative thought – EYES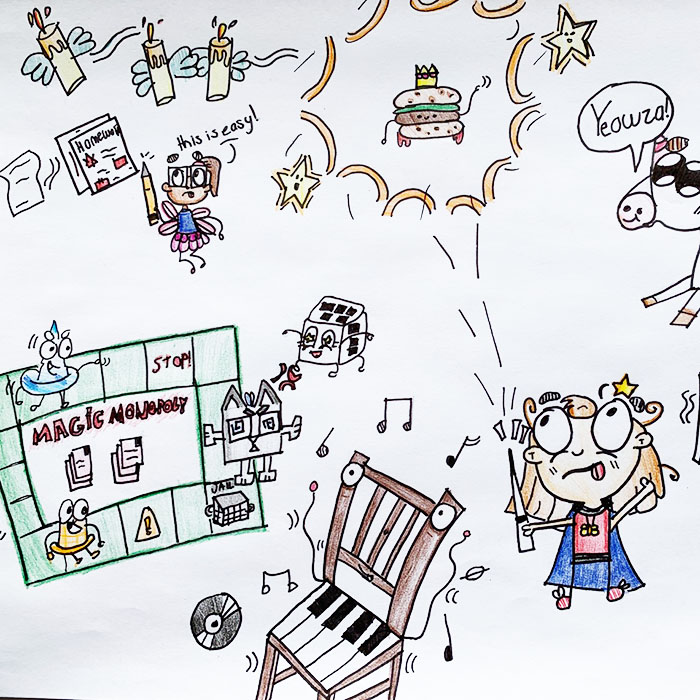 I was recently giving a cartoon online art class to a group of work colleagues at a department of the Government of Ontario. We were drawing a theme called "The Big Find".
In this workshop we draw a cartoon narrative showing archaeologists and what interesting treasures they dig up. But in the class the focus is really on capturing different expressions on the cartoon characters faces.
After our online art class, I had one participant, Anne, send me really great feedback saying:
"I didn't know what to expect from this session, so I was pleasantly surprised at how much fun it was! I also can't believe I was able to draw something other than stick figures! I would definitely recommend this session to anyone looking for a fun and informative experience." – Anne
3 Steps to turning your Stick Figure drawings into Cartoon Characters
It's easier than you think! There are several steps to turning your stick figure doodles into cartoon drawings. Here's what I recommend: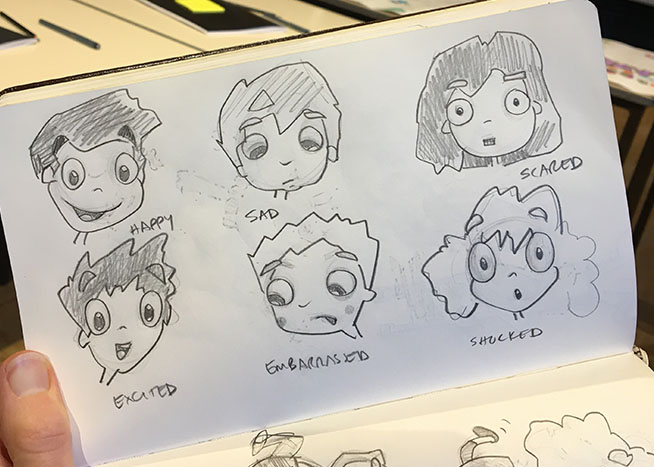 Step 1: Focus on the EYES
The most important part of (most) any cartoon character is the EYES. This obviously isn't always the case, but it's the simplest way to transform your stick figure into a convincing cartoon drawing. By the way, it's also what children naturally do.
Begin doodling your stick figure as usual, but pause as soon as you get to the EYES. Even if you do nothing more than make the EYES bigger, wider, more unique in shape, or shaded in, you will be on your way to drawing your first convincing cartoon character.
Step 2: Vary the EYES
The next simplest thing to do is to draw your EYES assymmetrically. You got it: what's thoroughly unbecoming in real human anatomy is thoroughly appealing in a cartoon character. Draw one big, draw one small; draw one oval, draw one round, …etc.
Play around with this. Don't even worry about the expression being convincing. Just play with the variety in the EYES.
Step 3: Give your EYES some EYEBROWS
The third key to turning your stick figure drawing into a cartoon character, and something I really emphasise to students in my online art classes, is to add EYEBROWS. These can be as simple a shape as you like but add them and give them some attention.
The same principles apply as you did with the EYES; use variety and asymmetry to your advantage to turn your simple stick man into a cool cartoon.
What do you do about the rest of the Stick Figure?
Don't sweat it! In this workshop I have everyone focus on the EYES. The rest of the cartoon character can be drawn very simply; yes even as sticks. See how that goes. You might be surprise at how well you can turn your stick figure into a fun cartoon character.
Ready?… Let's Get Creative!
Sarah
Online Art Classes
for Kids and Adults who love to Doodle!
Are you always doodling? Do you love to create cartoons? These are the art classes for you! I've created a small, friendly group that works together in our online art class. We're open to anyone who likes to sit, doodle and dream up cartoons. There are drawing classes for kids (ages 8 - 12), young children (ages 6 - 7) and even adults.