What's an easy way to cartoon Human expressions?
Every time I sit down at my drawing board to plan out the new topic for my online art classes each week for the kids and adults, I always feel a bit worried. I'll be feeling a bit overwhelmed as I ask myself questions like, "can I explain this to the children?", "will the adults think this is silly?", "can I make this interesting enough?" and the most basic question "how do I do this!?".
As an artist and creativity coach every week I present a new and challenging topic not only to the children and adults to doodle, but to myself. This week we were cartooning "The Big Find" in honour of National British Archaeology Week.
I love getting suggestions from my fellow doodlers as to what they'd like to learn. In one of my Discover Your Inner Cartoonist classes, one of my adult doodlers said that he wanted to learn more about how to draw facial expressions. Why not show that at an archaeological dig site – of course! And so began the lesson preparation.
Firstly, many art students in general find drawing people and faces in particular to be rather challenging. I myself find it intimidating I think because for me the cartoon character succeeds or fails by how well I capture the expression, and humans are even harder to draw for some reason.
In preparing for Cartoon Club classes I let myself do some doodling. What I found myself doodling was this picture you see here of this little archaeologist excitedly discovering his find along with the words bit-by-by.
Let's focus on the concept of BIT-BY-BIT….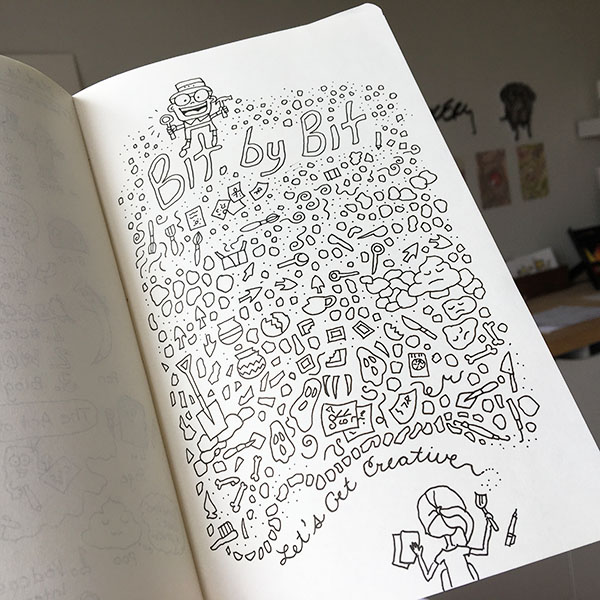 How do I break down cartoon expressions BIT-BY-BIT?
This is how I break down any drawing I don't know how to do, BIT-BY-BIT. It turns out it works especially well when applied to the more focused task of drawing cartoon faces. I find by asigning myself an expression, say excited in this case, and starting with the eyes I can get going with my character. BIT-BY-BIT I draw my cartoon, asking myself questions as I go along. "How would my eyes look if were excited?", "What would my nose do?", "How do I hold my mouth"….and on and on until I have doodled my cartoon character.
I doodled an entire page of expressions. It was really fun, well it was when I let my brain slow down and just drew them BIT-BY-BIT. By doodling the page of facial expressions it reinforced this concept to me and by doodling the page with my little archaeologist with all his little treasures, I was able to brainstorm ideas for what artefacts we might doodle at our "The Big Find". Another BIT-BY-BIT exercise. I love it!
Learn to doodle expressive cartoons in an online art class
If you have a child who loves to doodle I invite you to try one of my online art classes: Cartoon Club for Kids (1 hour for ages 8-12) or Cartoon Club Junior (30 minutes for ages 6-7) and if you are big kid like me and like to draw there's even Discover Your Inner Cartoonist (you got it – 1 hour for adults!).
Ready? …Let's Get Creative!
Online Art Classes
for Kids and Adults who love to Doodle!
Are you always doodling? Do you love to create cartoons? These are the art classes for you! I've created a small, friendly group that works together in our online art class. We're open to anyone who likes to sit, doodle and dream up cartoons. There are drawing classes for kids (ages 8 - 12), young children (ages 6 - 7) and even adults.