Do you remember how much you liked to doodle when you were young? How about your children – do they like doodling? There are a host of reasons why – let's investigate…
As an artist and creativity coach in Godalming I experience the wonderful benefits of doodling every week in my Cartoon Club online art classes for kids and adults. I see this both through the children and in what I find for myself. I'm reminded why I do this work every time I see how happy a student is with the results of their doodling efforts.
Why is doodling so much fun? And more importantly, is it good for us? It turns out the answer is a big YES and here's one reason why…
#1 To develop FOCUS
A little story…
This week I was at Huckleberries Farm in Elstead teaching a live cartooning class to a school group. It was nice to be back in a live setting and particularly such a wonderful outdoor space.
Huckleberries helps primary school children build resilience and emotional wellbeing using various therapeutic activities and contact with animals. This week in my class we were doodling the resident bunnies. Fun stuff!
Now drawing a bunny seems like a simple activity, but it has some surprising benefits as I was reminded in our session. We started out by gathering around the bunnies and taking a closer look. We observed their features, their habits, their movement, and any other detail which could add to our doodles.
Next I showed the children some of the bunny doodles I had done and related these to what we were observing. I posed lots of questions to help the children FOCUS in on the bunnies. There's more to them than you might at first think.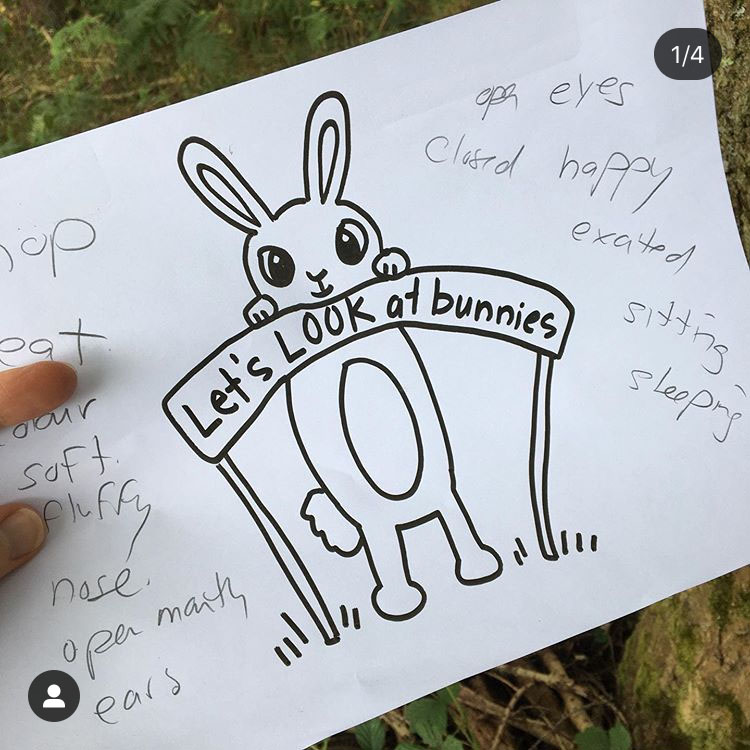 How does doodling improve our ability to FOCUS?
I lead the children through the first stages of our doodle, as always questioning and encouraging observation. I want everyone to be engaged and FOCUSED on what they are doodling. As each of our pictures starts to take shape, the children begin to add more creative features to their drawings. We ink our images and finally add colour. What starts out as an exciting, chatty session ends in quiet FOCUSED work.
Would you like your child to develop a better ability to FOCUS? Do more doodling! That goes for us big kids too. I know from experience it works for me. I love the feeling of being lost in my work. It's so calming and I feel much better after I have been FOCUSED on my drawing.
How can I get started dooding?
If you have child who loves to doodle I invite you to try one of my online art classes: Cartoon Club for Kids (1 hour for ages 8-12) or Cartoon Club Junior (30 minutes for ages 6-7) and there's even Discover Your Inner Cartoonist (you got it – 1 hour for adults!).
Ready…Let's Get Creative!
Online Art Classes
for Kids and Adults who love to Doodle!
Are you always doodling? Do you love to create cartoons? These are the art classes for you! I've created a small, friendly group that works together in our online art class. We're open to anyone who likes to sit, doodle and dream up cartoons. There are drawing classes for kids (ages 8 - 12), young children (ages 6 - 7) and even adults.