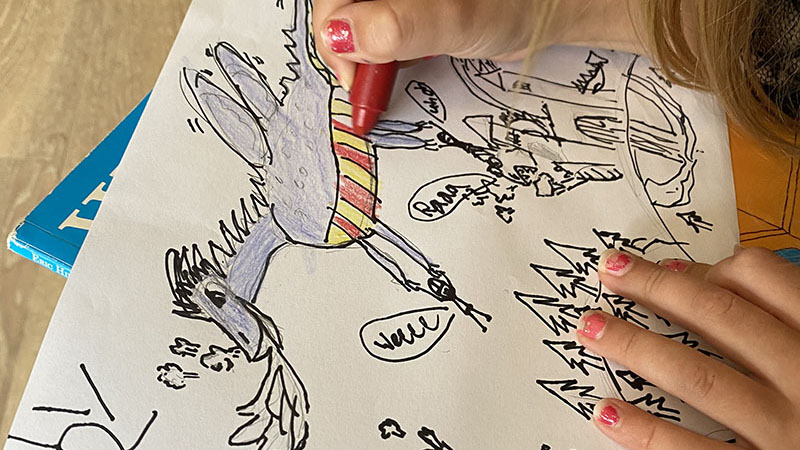 I received so many fabulous drawings from when we designed dragons at Cartoon Club online art classes for kids – I just had to share these with you! Plus I wanted to show you an example of one student who turned his dragon doodle into a digital character using Photoshop. So cool!
I feel like the dragons theme really brought out some of the most inspired drawings. There's something about a mythical creature like a dragon that makes me feel like I have extra creative liberty to play with. 
Just how differently can we interpret a theme?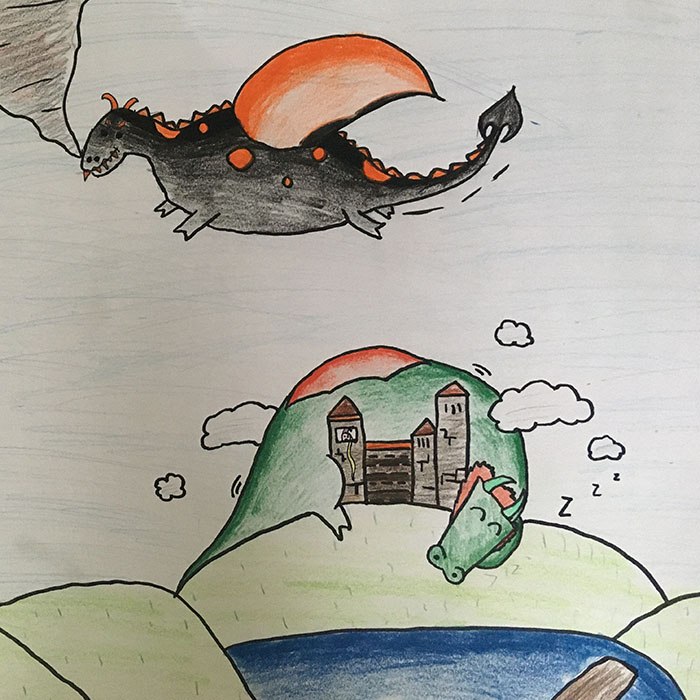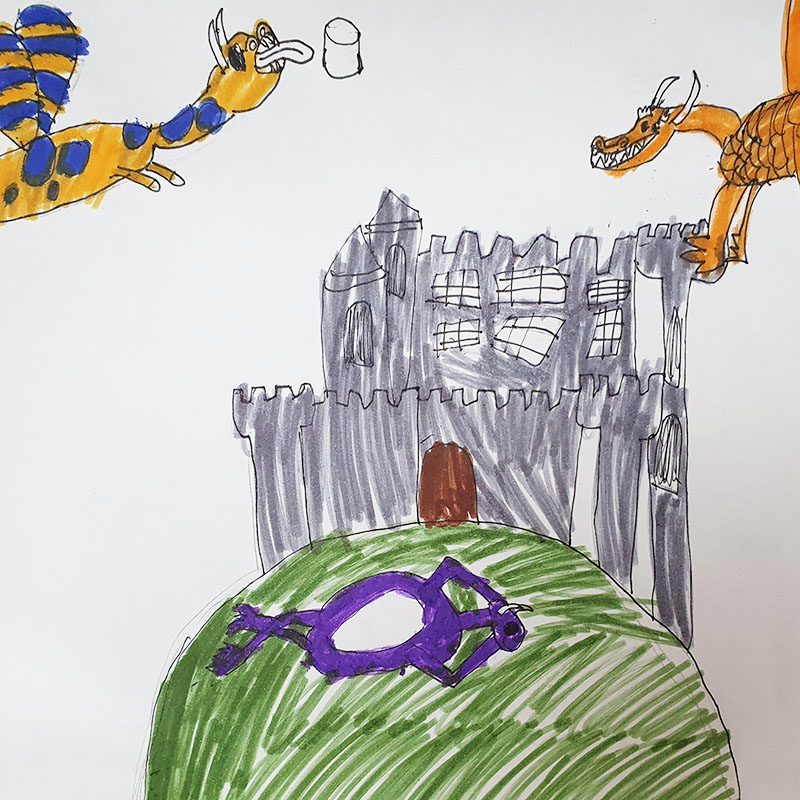 In our online cartoon class we had the idea to draw a dragon sleeping by the castle, a flying dragon, and a baby dragon. Here are three drawings that resulted. They are all so different and wonderful. Thanks Josh, Freya, and William for these great drawings. I especially love the marshmallow eating dragon. What else would you expect from such a creative doodling bunch!
How can words help your drawing?
I love using a limited palette. Here is an example which works so well. Pink, blue, purple, red, all analogous colours. I love how strongly they are applied and I think it really shows the patterning in mamma dragon and baby dragon, linking them but keeping the interest in the drawing. Wonderful!
It never crossed my mind to include a quote on the drawing (not sure why as I do that all the time in my colouring book Veronica's Garden!). Terrific drawing from our online art class!
How to turn your cartoon doodle digital!
I'm no Photoshop guru, but I have learned a fair amount over the past 8 years since I started using Adobe in design school. Thank goodness for that or I'm not sure I ever would have started this work and be teaching online cartoon art classes now. Hurray for change and challenge!
One of my Cartoon Club students, Max, wanted to learn Photoshop. I love tutoring art online one-to-one especially when tasked with a new creative challenge. What better way to learn the basics of Photoshop than with using one of your own cartoon drawings. Here you see the talented Max's drawing 'before' and 'after' we coloured and digitised him. The picture becomes a totally new work of art and there are so many ways to change the image and play about creatively. Thank you Max for the opportunity to work one-to-one with you on such a fun project.
If you'd like to learn to do this with your cartoon drawings please get in touch about one-to-one online art tutoring sessions and I'm happy to help you with the basics of digitising your characters in Photoshop CC.
And don't forget, if missed our online art class you can always have a go on your own by following some of my video tutorials on how to colour or how-to draw cartoons on my YouTube channel. Here's the link to How-to draw a Cartoon Dragon. Enjoy! anduntil next time Let's Get Creative!
One-to-one Tutoring – Make your cartoons digital!
If you'd like some one-to-one time with me, I'm here to help! I tutor in cartooning, colouring, and can even help you turn your cartoons into digital artwork. You'll learn the basics of Photoshop CC via our one-to-one Zoom online session.
One-to-one art classes are tailored to just what you'd like to learn to develop your own unique style and progress your creative project whether doodling, colouring or cartooning.
Online Art Classes
for Kids and Adults who love to Doodle!
Are you always doodling? Do you love to create cartoons? These are the art classes for you! I've created a small, friendly group that works together in our online art class. We're open to anyone who likes to sit, doodle and dream up cartoons. There are drawing classes for kids (ages 8 - 12), young children (ages 6 - 7) and even adults.